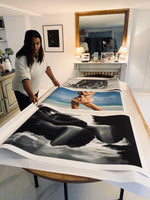 Fine art prints by Kim Akrich
Reveal the art collector in you
Kim Akrich offers you a selection of her most beautiful photographs taken along the past 10 years. Self-taught artist, Kim was born in Paris and raised between the city of love and Polynesian island Tahiti. Two opposite worlds contributing to the development of her artistic vision and career.
French Polynesia has been an endless source of inspiration and creation for Kim, as she spent years trying to capture the essence of her islands. From sunrise to sunsets, she has shot in every corner of the most beautiful beaches.
She has spent three years living on the magical island of Bora Bora, where she enjoyed infinite shades of blue and turquoise lagoons as her daily outdoor studio.
Using only natural light for the most raw result and timeless photographs, her work focuses on details of women in heavenly landscapes. Glowing skin, strong bodies, women in full power of their feminity.
Bring beauty, light and dream travels to your home